Christian Bale Grants Birthday Wish To 4-Year-Old Cancer Patient
September 13, 2012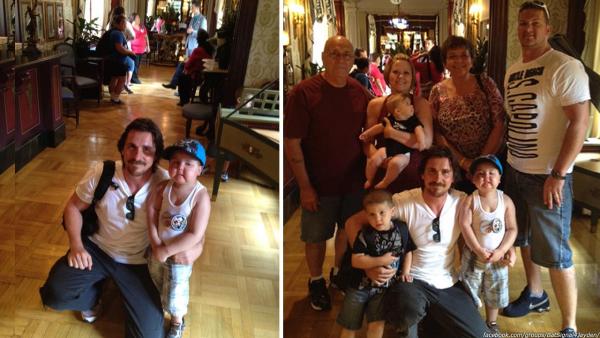 Christian Bale and Jayden's family in Disneyland. Photo from ontheredcarpet.com
Batman star Christian Bale gave an early surprise birthday gift to a 4-year-old cancer patient, Jayden Barber, by flying his entire family from Broadman, Ohio to spend time with Bale and his family in Disneyland, California. Jayden will turn 5 next week.
Jayden's mother, Charlene Barber, wrote on her Facebook page, "Finally can share!!! Christian sent us to LA and we had lunch at Disney club 33 on wed!! He and his family were so awesome and down to earth!!! The entire interaction was like old friends having lunch, Jayden did not get starstruck but was well aware of who we were with!"
It all started when the 4-year-old Batman friend wanted to meet the "real Batman" after a Batman party last month. So friends and families started a Facebook page called "Lighting the Batsignal for Jayden!" to help make his wish come true. Bale got the message and flown them out to California.
Two years ago, Jayden was diagnosed with Ewing's sarcoma, a rare bone cancer that affects children. He then underwent 14 rounds of chemotherapy and was believed to be in remission until he was diagnosed a year later with MDS, which can progress to leukemia.
After a failed bone marrow transplant treatment in February, Jayden's doctor told the family that he is terminally ill. However, last week they learned that his disease is in remission.
You can watch the local news about Jayden at: Jayden Meets Batman.