10-Year-Old Girl Saves Mother And Two Brothers From Fire
September 16, 2012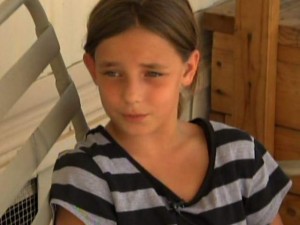 When 10-year-old Arizona girl, Samantha Christian, awakened by the sound of crackling flames from a portable air-conditioner at around 4:30 in the morning, she immediately went to wake her mother before leading her 8-year-old brother, Brendon, through the thick black smoke to their neighbor's house.
She then rushed back into the burning home to take care of her 4-year-old brother, Mikey. After she failed to wake Mikey up, she carried him on her shoulder to the neighbor's house while her mother, Labecca, was still trying to extinguish the fire with water.
After noticing her mother was still home fighting the fire, Samantha rushed back to the burning home again and demanded her mother to leave their home right away.
The place was a total loss, but Samantha's mom says she's grateful her young daughter did so well under pressure and got everyone out alive, "She's my little girl scout. She's pretty brave. I am pretty proud of what she did."
"Like they said, clothes, metal, jewelry, all sorts of stuff can be replaced, but humans can't," Samantha told the local TV NBC12.
The fourth-grader was later recognized for her bravery by the Apache Junction Fire Department at Four Peaks Elementary School's monthly flag ceremony, according to the school's website. The local firefighters also helped the now-homeless family find a temporary place to live and set up a fund for them since they just moved to Arizona a month ago from Ohio.